Animal Success Stories
Click a letter to find an animal or
view all
.
Dash
In November 2015, my husband John and I made the difficult decision to put our beloved boxer Brownie to sleep. Two years earlier, we had adopted our bullmastiff mix Kodiak (as a puppy) from LSBR. Brownie and Kodiak never really clicked, so I was hesitant to pursue adopting another dog right away. After about a year, John and I decided we were ready to look for another boxer through LSBR. After meeting one very young and energetic female boxer, we knew that we needed a dog with a much lower intensity level. That is when Leisha suggested that we meet Dash (even though he was a male). She thought that Dash's low energy would mesh well with Kodiak's personality. At the meet and greet, Dash was very timid and cautious. His foster brother came along for the introduction to help give Dash the confidence he needed. Kodiak seemed to respond well to Dash, and John thought that we should give it a go. I was more hesitant and unsure (like Dash was feeling that morning). But I trusted John's judgment, and we took Dash home. Dash was painfully shy at first, but he quickly became affectionate with us and with Kodiak, too. He immediately snuggled up and laid his head on Kodiak. How could we resist that? We couldn't. And so we formally adopted Dash and renamed him Sir Winston Churchill (Winston for short). His serious expression even resembles Churchill in a side-by-side comparison. In the months that followed, Winston slowly but surely has come out of his shell and gained more confidence. In the last couple of months, he has started to initiate play with Kodiak and not just freeze when Kodiak tries to play with him. He has also started having the normal boxer zoomies, and he loves to play with his toys. He is also spoiled rotten and sleeps in the bed with us. (He snores really loudly, too.) Winston can fall asleep the minute his head touches his pillow. I've never seen a dog fall asleep as quickly as he does. We just want to thank LSBR for rescuing our two furry loves. Our lives have been forever changed by them, and we are forever grateful. --The Speights
Deacon
LSBR, It has been about 60 days since Izzy and Kona (formerly Deacon) joined our family. They have settled in nicely to our routine and have cemented their friendship. Since they didn't know each other prior to joining us, it is wonderful for us to see them play together, snooze together, and drink from the same water bowl at the same time (even though we have two). Kona makes us laugh because he is such a tough-looking dog, so regal and muscled....but he is just a big lap-dog that wants hugs and kisses and likes to snuggle. Izzy is a delicate gazelle-like boxer that leaps waist-high when you ask her if she wants to go on a W-A-L-K. She is wickedly smart, independent and scrappy, and yet when I am home, she is "velcro-ed' to me wherever I go. They love to play tug-of-war with each other, or wrestle. And they love playing games with us, like hide-and-seek. A memorable moment for us was when we were all together in the living room, and Kona was laying on the carpet and then slowing started to rollover, wiggling on his back from side to side, laughing and smiling, looking at us, and waving his feet in the air...and then he let out a very big SIGH. As if he said "THIS is the life i dreamed of...i am finally home..." It made our hearts just melt, we were so happy to see that he was happy. We want to let other potential adopting families know that adopting a rescue is WONDERFUL. Those who have adopted know the subtle feeling that your rescue seems so grateful, so happy. They know the difference between "before" and "now" and appreciate little things that other pets take for granted, like having your own bed, and fresh water. Please give your rescue a few weeks to settle into your routine and their new life. A pup of any age needs time to adapt to your schedule and learn what is acceptable, and if a few "mistakes" happen please just firmly but kindly let them know right from wrong & redirect to the acceptable option, but don't give up on them. They can't follow rules they don't know about, and they really want to please and make you happy - they want to be home with their new family forever! BTW, we found the update on Lennox on the LSBR Facebook page, and were thrilled to see how happy Lennox is with his new forever family. Lennox and Kona were BFFs throughout puppyhood and made it through some hard times together. It is wonderful to know that both are now happy and well-loved, thanks to the dedication of the volunteers at LSBR and the willingness of families to adopt rescues. Thank you again to everyone for making room for Kona and Izzy, and for spending your time and sharing your love with them to start them on the path to a better life. Christine and Micheal McWilliams
Dolly (now Dez)
In November of 2010 we decided that we were going to get another dog for our boxer Zee. He needed a friend badly! We looked online and found one that we wanted but that didnt work out. The lady had brought over a dog that she felt we would love. The second we opened the door we knew that this was the one! She looked just like our dog but the patch was on the other eye. She was so friendly, and just wanted to be loved on and that was perfect because we have a lot of love to give. She came to us with the name of Dolly but we changed it to Dez.
At first, she wasn't too keen on Zee. She only wanted to be around him when she wanted to be around him which was not very often. But with a little time, training, and patience she grew very attached to him. (she's the one on top in the picture) My husband works out of town a lot and she is very protective of the home which makes me feel a lot better. She is WONDERFUL with our daughter who is 14 months. My daughter can poke and prod her and pull her ears and Dez loves it! She cuddles with her, plays with her, and protects her. When we first got Dez she only weighed about 48 pounds. She was a stray and you can tell she definetly was that! But now she weighs a whopping 67 pounds! We just wanted to say Thank you LSBR for bringing her to our home. She has been an great addition and we cant imagine our lives without her!!!
Thank you, The Bloom Family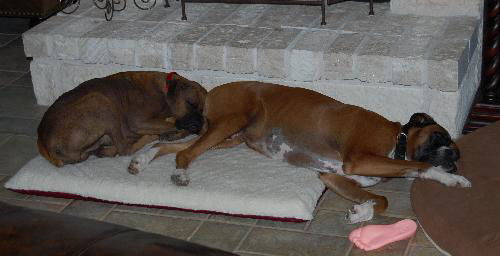 DAISY HARRIS
Just wanted to send a quick update about our little girl Daisy. Steve and I believe that Daisy just "knows" that she is meant to be here, we can't get over how awesome she is and how easy this has been. Jake and Daisy are two peas in a pod and I have ever seen a FASTER dog in my whole life - Daisy runs circles around Jake in the backyard! Both "kiddos" sleep on separate puppy beds in our bedroom and are so great...we tell them "go lay in your bed" and they both curl up on their beds and fall asleep VERY easy (due to all the running around daily). Every morning, I am awakened by HEAVY breathing coming from both of them which is just their polite way of telling me they need outside and also need some breakfast (there have been a few mornings I feel like I could sleep until noon lately). After breakfast is usually a little play time with all the toys we have (Jake likes to share with Daisy) inside and they get a little lazy. In the afternoon is the playtime outside (and in the evening as well). Jake and Daisy LOVE LOVE LOVE running around the backyard, chasing each other and exploring in the bushes behind the fish pond. Daisy is SO fast, she looks like a deer and Steve & I laugh watching her, she taunts Jake and then takes off across the backyard waiting for Jake. Poor Jake is not so fast but he tries to block her path to catch up with her and it looks like they are little kids playing hide-n-seek. We have not seen any signs of them not getting along, Daisy will get after Jake a few times and Jake does the same just playing...I think the only hard thing for Jake is the attention being split between the two of them now. We took Daisy to the vet yesterday to get a second opinion on her skin/hair and we are treating her with medicines to see if we can't restore her hair...Dr. Amyx had great information for us and we will do what we can to make sure she has the best care and results. Everything is great at The Morgan household!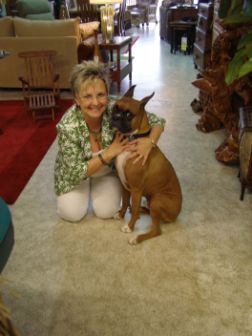 Duke of Katy
Last July we adopted an underweight, fearful boy called "Duke of Katy." In January we almost returned him due to aggression toward us if we tried to make him do anything he didn't want to do. We contacted someone there and were asked if he was sleeping with us. We said "yes", and were told his behavior was our fault. She said "get him out of your bed." Then she told us "he doesn't understand his position in your home." She instructed us to leave a long leash on him and not allow him on our furniture. We were to tell him "off", when he got on the furniture. If he did not obey we were to use the leash to pull him off. We followed her instructions and within two days he was a different dog! He gets on the bed now by invitation only. We are so grateful to have learned this knowledge. Gideon is a wonderful boy! He is now up to 58 lbs, he was 45 lbs when we got him. He is so obedient now and we absolutely love him! He goes to work with us every day. No one can believe he is a rescue dog. We tell everyone we meet about your program. I am sending you a few photos; just wanted to brag! Thank you so much. --- Ruthie L Magehee ---
Click a letter to find an animal or
view all
.