Animal Success Stories
Click a letter to find an animal or
view all
.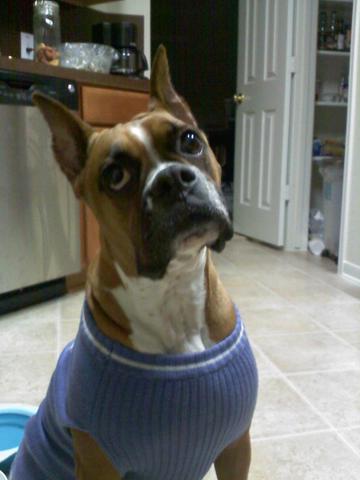 Fauna (now Rigby)
Hi everyone! My name is Elleminnowpea Rigby Piccolo, but my Mommy & Daddy call me Rigby for short. I just wanted to write to Lone Star Boxer and thank you all for helping me find my forever home. My life is pretty great now, I don't have to watch my puppies be taken away to be sold anymore and I don't have to worry about being put in the pound ever again! Nowadays, I get to lay around the house, play with my cat bubba Kimbo and cat sissy Tink. At first I was so shy and timid; I had a fractured pelvic bone from my old life and didn't know what it meant to have fun. Good thing Mommy & Daddy knew what to do! My parents took me to the vet and introduced me to some puppy pals. My friends have taught me how to play, let loose and have fun like a happy dog should! Now I'm just as goofy and funny as any ol' Boxer. Because I am so thankful to LSBR, I told Mommy & Daddy that we should do more to help other Boxers find homes. Since they love me so much, they agreed that we should become a Foster Family! Right now my cousin Royal lives with us until someone takes him to his special forever home. Won't you be that person? Well, that's it for now! Talk to you soon Lone Star Boxer! Keep up the good work, Hugs and Kisses from Ribgy aka Rigobeeta, Riggy, Riggs, BeBe, Riggispagigi, Beeta, Wigglebutt, Wigglebeeta, Wiggles, Princess and any other silly name my parents can think of :)
- Audra and David
Frosty
Since Frosty first walked (or stumbled) into our lives, we laugh daily. We use the term " he's just a puppy", he gets away with murder, in our house often. He is the most curious, eager and happy dog we have ever come across. We started by fostering Frosty and the day he jumped in our house he instantly became part of our family. He stole our hearts immediately and it feels as though he's been here forever. He thinks he is quite the lap dog and will leap around the house and sit in your lap as if he weighs 5 pounds, like his sister Chloe who is a Yorkie and his brother Heffie who is a Pomeranian. With Frosty being deaf, he wears his expressions on his face. He also sounds 100 percent like Chewbecca when he decided's to make sounds if he wants to be playful, curious or letting you know he isn't happy. He is the most expressive dog you will ever have the pleasure of meeting. We can't imagine our lives without him. .. Then we stumbled across Kaylee! Story to be continued !! Look for Kaylee's success story next !
Laurie McDaniel
FORD
Ford is doing great and we do love him. It is so good to know that there are so many people in his life that love him and have nurtured him during the long months that he did not have a forever home. We are so grateful to all of you.
He comes to work with me every day and has a bed in my office where he camps out. If I leave the building to go next door for a few minutes, he is waiting for me by the door from which I exited J and on the days I am on-the-road, visiting our General Contractor offices, he rides with me and does fine – I'm never inside the offices for more than a few minutes, so he has been fine waiting on his blanket in the back seat.
We have left him at home by himself for several hours when we go to church, out to eat etc, and he does fine. He has a doggie door and uses it without difficulty. Although he sleeps in his crate at night (with the door open) he has other "beds" around the house that he uses depending upon which room my husband and I are in – he does like to stay close…
We will be away for a few days in a few weeks, and because he does not do well with other dogs, my son cannot keep him with their yellow lab. So… he is coming back to the Fritz for a few days while we are gone. I'm encouraged to know that people there will love on him while he visits and pray that he does not think he is being "sent back" again. If you see him while he is there, give him hug!
- Emilynn Reed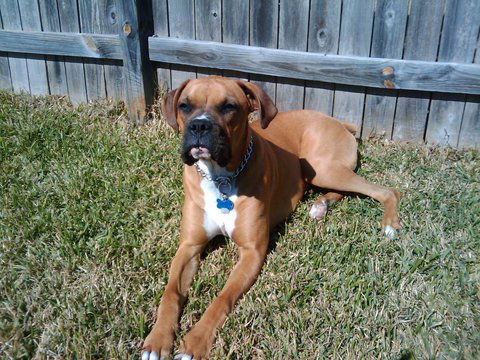 FROGG (now Dozer)
Hi! We just wanted to take a moment (okay, it's almost been a year) to thank Lonestar for adding to our family.
We met Frogg at a meet&greet at PetSmart right after Hurricane Ike. When we got down to the floor to say hello, he jumped and started nibbling on our ear lobes – and we decided we were taking him home right there. As we filled out the form for Frogg, we were corrected on his name. Brett and Joyce and their daughters (an amazing foster family) told us his name was Dozer. He could not have a more appropriate name- he just dozes his way to get where he wants.
Dozer took very well to his new older brother, Buddy and his older sister, Sissy. Dozer's foster family did an awesome job preparing him for his forever home. We could not believe how well-trained and well-mannered he wa.. and even though we relocated- he took to the move like a trooper.
Dozer has grown into a handsome pup- and he's still growing. He can be rough and tumble one minute and quiet companion the next. And does that pup love the sun! He would sit on the stairs enjoying the sun all day if it weren't for distractions like his family, treats and chewing on his toys. I could go on and on about Dozer and how much he's brought to our lives and how great it's been for Buddy and Sissy. All I can say is thank you.
Matt, Wil, Buddy, Sissy & Dozer.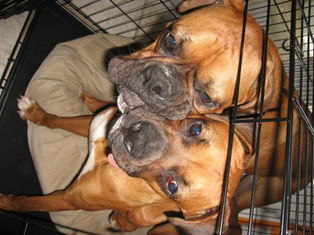 Frenchy
Sugar "Suge" (formerly known as Frenchy) joined our family on February 21, 2009. What an exciting day for her, her boxer brother Sonny and us! She and Sonny became fast friends and love to run and play together in the sunshine. Suge may be petite but she is fierce competition at tug-of-war! She loves to give and receive hugs and kisses and snooze on her bed. We think Suge picked up some survival skills early in life… she is a stealthy little thief! We find all kinds of things in her crate including shoes, shirts and toilet paper rolls. Suge is a sweet, silly boxer and we are thrilled to provide her with a safe, fun home and lots of loveJ
Thank you Lone Star Boxer Rescue for bringing Suge into our lives!
Sincerely, Allison & David Hamilton
Click a letter to find an animal or
view all
.