Animal Success Stories
Click a letter to find an animal or
view all
.
Harris
We adopted HARRIS in the Fall of 2008. We didn't change his name because it worked well with the "handsome" moniker. He adjusted to his new surroundings so quickly that it was obvious he belonged with our family. Though he has a few allergies, chewed plenty of shoes, and is obsessed with the kitchen, he has been absolutely wonderful!
He loves going for rides, rough play, stuffed animals, food, and giving kisses....... thankfully he gets plenty of it all.
Thank you LSBR for finding Harris, we couldn't imagine our life without him. We may be visiting you soon to add to our pack.
Patrick, Robyn, Turner & Andy
Hudson
We adopted Hudson a few years ago. He has been the greatest pet we have ever had! I have to say, he is spoiled rotten. He stays inside with his pillows and toys most of the time and goes outside just to use the bathroom or if we are out there to play with him. Hudson is addicted to attention, he loves to snuggle and have hugs. Hudson is great with the kids, visitors, and even our cats. His personality is so funny and loving. His grandparents take care of him if we have to go out of town and if it's possible, they spoil him even more. His daddy loves to teach him new tricks and it just shows how smart he is. The kids love to wrestle around with him and play fetch. Hudson is such an awesome dog!! We often get compliments that he is the best dog that people have ever been around. We love Hudson and thank Lone Star Boxer Rescue for letting us add him to our family!!!
The Gentry Family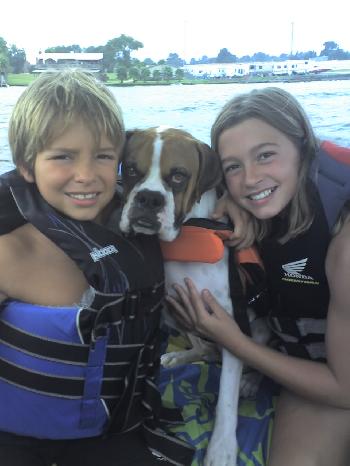 Honor
I wanted to send you some recent pictures of Lizzy (Honor) and her best friends. As you can see she is doing very well!! She has already become a big part of our family. She follows the kids around the house and is always disappointed when they leave for school without her. She will sit by the door and anxiously await their return. She had gone with the family on trips and she loves to ride in the car. She even likes family trips to the lake. It is hard to believe she has only been with us for a month. The most amazing thing about her is that, in spite of having a very tough life (pre-rescue), she still has an enormous capacity to love. We feel very lucky that she found her way into our lives. Thanks LSBR for all that you do.
Click a letter to find an animal or
view all
.