Animal Success Stories
Click a letter to find an animal or
view all
.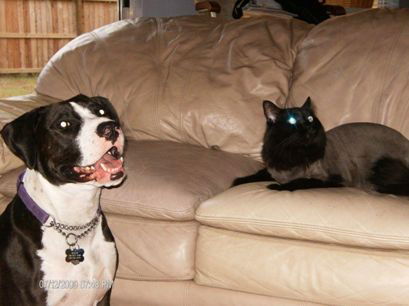 Willie
I am with my new family now. They came to Lone Star Boxer Rescue to be rescued from the loss of their beloved Boxer Tug. I came in with lots of energy and lots of love in the form of kisses. It was a little strange at first, they had a lot of rules to abide by, but after a while I became comfortable with them and them with me. Now it's jogging, walking, playing….oh and more learning. I also try to help around the house, by grabbing clothes to put them way….I just don't know where they belong. In the evening when we're relaxing, I also act as a pillow. I love the closeness, I'm loved by all of them.
That lion looking animal is Emily. When we first met we didn't really see much of each other, because when we were together, I barked at her and she hissed at me. I wondered how long it would be before she moved out. As time went on it appeared she wasn't going anywhere and neither was I, so we had to learn to get along. I understand she was best friends with the previous dog that was here, so she couldn't be all bad. My family took the time to bring us together gradually at first and then extending our time together under their watchful eye. After about 5 weeks, we seemed to have forgotten what all that barking and hissing was about. She chases me and I chase her, she's actually quite fun. And don't let that lion appearance fool you, she's really just a pussycat.
There are a couple of birds in my home that are locked in their crate all day long. Since they don't come out, I tend to forget about them, until they start making a lot of noise and I do as everyone else and tune them out!
Some people think because I'm part Pit Bull I may be dangerous, but I'm also part Boxer too, which are friendly and loyal. My new family thinks there is no such thing as bad dogs, only bad dog owners. They enjoy teaching me and I love to learn. They say I'm doing great! This is truly my forever home.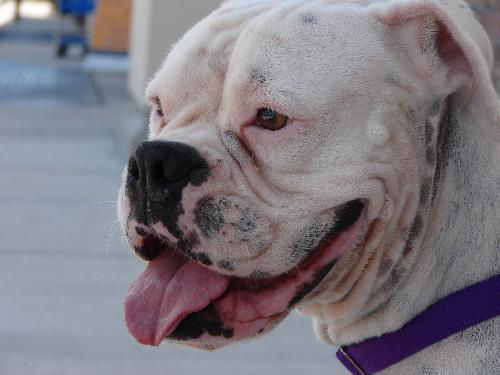 Wendy
Just wanted to thank everyone at Lone Star Boxer Rescue for Wendy! We got her two days before hurricane Ike, so we didn't change her name - Wendy Waters! She has adjusted well. She loves everyone (except my husband!) and thinks she is a little dog in a big dog's body. She would like to climb in my lap so I could hold her. She loves our morning walks on the greenbelt and running around in the yard. She likes to play with her toys and chase the cat! They finally learned to be friends and give each other kisses! She prefers to drink out of the pool instead of her water bowl! I can't wait til summer to see if she will swim. Our first boxer of 11 years died in July and at first we weren't going to get another one, but I'm glad we did. Wendy is a great dog and we are glad she is with us. I attached a picture of the Christmas card we sent out. She's even photogenic! Thanks again, Donna, Christina and everyone at LSBR. Sincerly, The Waters
Click a letter to find an animal or
view all
.