Animal Success Stories
Click a letter to find an animal or
view all
.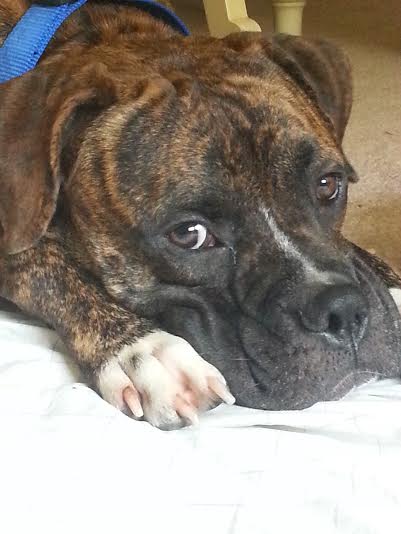 Gustav
Goose (formerly Gustav) has been with us for a little over 2 weeks, and we are loving this sweet boy! He has a big heart and lots of energy! He is so excited to see us when we get home, his whole body wiggles! Even going to the bathroom and coming back out to the living area grants us the sweetest "wiggle welcome". Goose is getting along splendidly with the whole family, but especially his fur brother Shiner (formerly Cutter). They play ALL DAY LONG, and snore in harmony at night. He is eating well, and slowly putting on weight. His appetite is quite impressive. We take him on evening walks and he does well on a leash. We have taken him outside and to new places by himself, and also with Shiner. He seems more content and at ease when Shiner is with him, which is such a blessing to see. He loves his coolaroo and blankies, and loves all of his babies (toys) - he collects them and puts them in piles, then he picks one to play tug-o-war with Shiner. He loves anything that is food - but especially "Gooberlicious" treats. We are teaching him tricks - he does really well with "sit" and "catch" (he can catch almost any food in his mouth mid-air), and getting better at "shake". We are going to work on "stay" and "off" - he's so excited to have his people that he doesn't sit still for long. He does NOT like loud noises, boxes, or pizza guys. He is also very vocal. He alerts us when someone is at the door, and also when he wants pets and food and snuggles. When we talk to him, sometimes he just turns his head sideways and grunts this really long grunt that is just too cute. We are so in love with this sweet boy. It is obvious at times that someone really hurt him, but we have made it our goal to give him so much love and attention that his former "ruff life" fades out of his memory. --Campbell family
Lady (formerly Petra)
On the other hand, it seems like Lady (formerly Petra) has always been part of our family. She is such a sweetheart. We bonded within the first few days; she follows me everywhere. I rush home from work every day because I know Lady is waiting for me:) We were warned that Lady needed to be an only dog (which she is) because she doesn't like being around other dogs. Even though she doesn't play well with other dogs, she has been great with our grandkids (ages 8, 2, and 1). She's extremely patient with the kids and is very protective of them. And she loves riding in the car, which works out well since we travel frequently. I'm so thankful to Lone Star Boxer Rescue for matching me with the perfect companion. I call Lady my therapy dog--she's loving and patient and always makes me smile. Here's a picture of Lady in her usual spot next to me on our couch.
Deacon
LSBR, It has been about 60 days since Izzy and Kona (formerly Deacon) joined our family. They have settled in nicely to our routine and have cemented their friendship. Since they didn't know each other prior to joining us, it is wonderful for us to see them play together, snooze together, and drink from the same water bowl at the same time (even though we have two). Kona makes us laugh because he is such a tough-looking dog, so regal and muscled....but he is just a big lap-dog that wants hugs and kisses and likes to snuggle. Izzy is a delicate gazelle-like boxer that leaps waist-high when you ask her if she wants to go on a W-A-L-K. She is wickedly smart, independent and scrappy, and yet when I am home, she is "velcro-ed' to me wherever I go. They love to play tug-of-war with each other, or wrestle. And they love playing games with us, like hide-and-seek. A memorable moment for us was when we were all together in the living room, and Kona was laying on the carpet and then slowing started to rollover, wiggling on his back from side to side, laughing and smiling, looking at us, and waving his feet in the air...and then he let out a very big SIGH. As if he said "THIS is the life i dreamed of...i am finally home..." It made our hearts just melt, we were so happy to see that he was happy. We want to let other potential adopting families know that adopting a rescue is WONDERFUL. Those who have adopted know the subtle feeling that your rescue seems so grateful, so happy. They know the difference between "before" and "now" and appreciate little things that other pets take for granted, like having your own bed, and fresh water. Please give your rescue a few weeks to settle into your routine and their new life. A pup of any age needs time to adapt to your schedule and learn what is acceptable, and if a few "mistakes" happen please just firmly but kindly let them know right from wrong & redirect to the acceptable option, but don't give up on them. They can't follow rules they don't know about, and they really want to please and make you happy - they want to be home with their new family forever! BTW, we found the update on Lennox on the LSBR Facebook page, and were thrilled to see how happy Lennox is with his new forever family. Lennox and Kona were BFFs throughout puppyhood and made it through some hard times together. It is wonderful to know that both are now happy and well-loved, thanks to the dedication of the volunteers at LSBR and the willingness of families to adopt rescues. Thank you again to everyone for making room for Kona and Izzy, and for spending your time and sharing your love with them to start them on the path to a better life. Christine and Micheal McWilliams
Rocky
Hello! Well, we've had Rocky for a couple of months now and he seems to really have settled in. He loves his canine sister, Molly, and his human brother and sister, Ty and Kailyn. He is slowly picking up on commands...knows how to 'sit, lay, and shake'. We are still working on 'stay' :) He still likes to sleep in his crate at night, but during the day if he's not outside with Molly, he roams the house freely. He has also gained our trust that we are able to leave him roaming freely in the house with Molly while we are gone running errands or such during the day. He is also becoming more social. He interacts with us alot more and does have his alone time, but wants to be with us more. He is very alert and will let us know if someone comes to the door or pulls in the driveway. One interesting thing we have found out is that he can sniff out and find goffer/mole holes. He has dug several holes in which he has exposed the goffer tunnel and has his head down to the hole as if he is 'waiting' :) He has put on a little weight, but still healthy. He is very sweet, affectionate, and definitely has lots of personality. Thanks again LSBR for allowing these babies to have a chance, Robin for all your help and numerous calls from me, and his previous foster Evelyn for allowing us to take him and make him a part of our family.
Cali
I adopted Riesey (formerly Cali) about a month ago. She's the beautiful Boxer mix in the photos. She is the most loving 60 pound Lap-dog. She's high energy and we walk and play a lot (She receives tons of compliments on her beauty). She also has her calm and super affectionate moments when she pins me down and licks my face. Or we just hang out in my bedroom listening to music. She likes Jason Mraz best. I wake in the morning to hot breath on my face as she has sneaked up onto my pillow to make herself comfortable. In her own way, she tells me every day that she's happy in her forever home. This couldn't have been accomplished without the tremendous help from Diane (foster mom) and Jill (home inspector/interviewer). Their hard work and dedication to LSBR and their love for the dogs shines through with every word they utter. They definitely bond with the rescue dogs and understand that finding them a quality forever home is the ultimate goal. I wish I had their strength. Thank you Diane and Jill for approving our home for Riesey. I could never thank you enough, nor explain the void that has been filled in my life by Riesey. LSBR is AWESOME!!!!!!! So many thanks, Lisa Potthoff, Marta & Riesey!!!!!!
Click a letter to find an animal or
view all
.