Animal Success Stories
Click a letter to find an animal or
view all
.
Joe
Joe (now Zeus), I have found my forever home! I feel like I have been with my new mommy for years, when it's really only been a month! It was very interesting the first couple of days when I was trying to be very nosey and meet Tiger the cat that lives upstairs in our house. I'm still waiting for her to come down and meet me so we can play together, but I know it will take time. In the mean time I have found a new love (cough addiction cough cough) to chasing laser pointers around my house. Its amazing how that little bugger will be there one second and then the next on the ceiling! But that's OK, I'll get it one day! And don't even get me started on all the car rides! My mom now has a permanent stream of pupcus down the side of her car from me hanging my head out the window! The only down side for my new mommy is that she didn't know how gassy I can be... She calls me her little howitzer, what ever that is, because every time she turns around, I go off. I cant help it! I have a very bubbly personality!
JILL
I wanted to give you an update on Jill or as momma (me) calls her "My Jilly-Bean". I have always loved dogs and always had two so they could be playmates. When I moved here from Germany (military), my 14 1/2 year old pit-bull died. I was so heartbroken, but still had my adopted boxer Gracie (princess Grace). I decided to get her a new playmate so she would not be heartbroken so much about Spankie. I saw Jilly on your website and just fell in love with her. Talk about personality, she was full of it. Anyway, to make a long story short, Gracie and I made the trip out there to see if we would all get along and could adopt the Jilly-Bean. First of all, I just want to thank everyone at LSBR, you did such a great job and really showed that you cared about the dogs. I got to the car and on the way home, had already fallen in love with Jilly. My baby is such a good natured dog that has a goal in life to be loved and love back. She is the sweetest thing and can not give or get enough love. She is such a crazy love-muffin, you can help but love her quaky ways. She had an instant bond with both myself and my other baby Gracie. Jill has brought us so much happiness and love that Gracie and I could not imagine life without her. I just wanted to express my gratitude for all that you do for these animals. I am so happy to give both of my girls a great home and lots of love, which they return doubled to me.
My brother had to move from Italy (he is also military) and had a rottie (Fortuna, or my Toonzie-bear). I took her until he got settled into his new home in California. I knew Gracie would be a great friend to her, but Jilly was just as welcoming to her. What a pleasure these girls have been. I just wanted to let you know that Jill has a heart of gold and will always be half of my heart. Again, cant thank you enough for allowing her to be my baby. I have included some photos for you to see my lovely babies. The two boxers are Jilly and her sister Gracie. I also included one the three girls so you can see how great they got along and how spoiled they are.
One final photo of my two girls and my parents boxer (who adopted after they fell in love wtih the Jilly-bean). Again, I am sorry it took so long for me to write this, but even though its late, you have my complete gratitude and respect for bringing another life of happiness to our home!!!
Respectfully, Gina Faulds (Gracie and Jill-beans momma).
J.J.
Update on JJ JJ is the best dog in the WHOLE world. I am so lucky to have had the opportunity to adopt him. JJ instantly became a member of our family. It's as if he has always been here with us. Libby, Mom's Afghan, has adopted him as her baby. She cleans his face and even gives up her place on the couch for him. JJ and Reilly still pretty much just stare at each other, but no fights. JJ and H, the Maltese, play in the yard every morning like a couple of little kids play chase. So as for the other dogs, he's a hit. As for me, JJ is my best friend. He goes everywhere with me. He's my constant companion even when I sleep. When he rides in my truck, I have a harness so he does not slide around. When I work in the garage, JJ supervises to make sure the work I do is right. When I read, he lays in my lap and I read to him, even though he can't hear. When I shower, he lays outside the tub patiently waiting. Like I said, he's my shadow. We have been working with JJ on his crate training and his anxiety. I truly think someone might have left him in a crate for a very long time. He's gotten so much better and I can even crate him when I go to work without him flooding the crate with drool. For this I'm thankful, because it was really nasty to clean up. I will write more in a few weeks, but wanted to give you an update and thank you again for allowing me the opportunity to be JJ's human!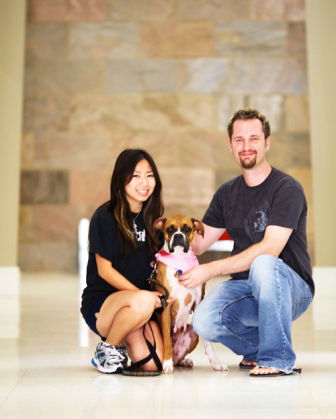 Junie
Junie came into our lives just a month ago but it feels like she's been here forever. She has been such a great addition to our lives and we are so grateful to have her. From her ever-loving presence to her undeniably sweet character, she has won everyone who's ever met her over, including us. Almost everyone in our neighborhood knows her and she knows how to work it when they're around so she can get a treat or some love. Her little happy dance when she knows she's about to be walked is the cutest ever, and it's so adorable to watch her when she gets excited. When we adopted her, she was still pretty skinny but with some TLC, she has gained her weight back. She's as gorgeous as ever! Thanks so much to everyone at LSBR for helping us through this process. We want to especially thank Vicki Veatch for being such a wonderful resource and an excellent foster mom to Junie. Everyone did a wonderful job and God bless you all for everything you do for these dogs.
Follow Junie's success on her blog!
http://www.customminds.com/junie/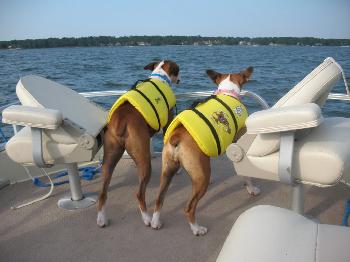 Jewlz
Jewlz came into our family at the end of July, 2007. She is a petite boxer who compliments Piper, our male boxer wonderfully! She has also learned to co-exist with our three cats, however she is still fascinated with each one of them and follows them around the house at times just waiting to see what they will do next! Jewlz and Piper have become fast friends after she came to our home. Piper shares his futon with her as well as all his toys. Jewlz on the other hand is quite a stinker and keeps all her toys to herself. Piper will grab one of her toys just to aggravate her and then the chase is on! It is so fun to just sit back and watch them play! Their favorite outing is the City of Katy Off Leash Dog Park. Piper will hit the gate running but then stop and check on Jewlz. Jewlz will run and try to keep up with Piper but her legs are a bit shorter than his! They both behave themselves with the other dogs in the park and we are so proud of them. Also, they both love to go to the lake house and take a boat ride. They know that they have to wear their life jackets before we get on the boat because boxers sink rather than float! Neither one will jump into the lake but they like the wind blowing in face! My family has fallen in love with Jewlz and are so glad that Lone Star Boxer Rescue exists. Regardless of what Jewlz has suffered through in her past, she gets love, attention and companionship with our family. It's a great feeling to get greeted at the door by two "wiggle butts"!! -- Mark and Chris Koehn --
Click a letter to find an animal or
view all
.