Animal Success Stories
Click a letter to find an animal or
view all
.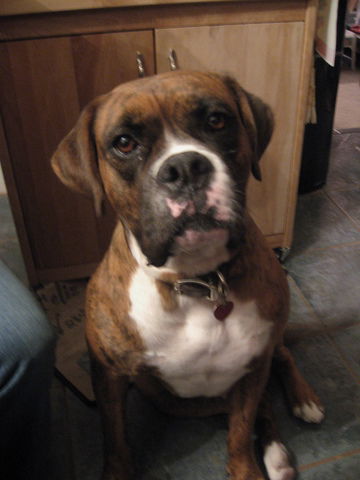 TIGER (now Chopper)
I had my Boxer for at least eleven years. As most people that have had a Boxer in their lives, you really fall in love with the breed. Boozer was a loving member of my family and was loved by all. When he died, it took a lot out of me and it took a couple of years before I even entertained the thought of bringing another dog into my life. When I finally started thinking about a dog I went back to thinking about Boxers. I found Lone Star Boxer Rescue on the web and started checking them out. I checked out a couple of the young Boxers and and started the process of adopting them but both times it was too late, they had already been adopted. Then I saw a picture of Chopper..... his name was Tiger at the time because he is a brindle and a Boxer/Mastiff mix. He had been through a really rough streatch and he was stand offish but I still fell in love with him. Long story short.....I was approved to adopt him and he is a very big part of my life, I am a retired disabled Viet Nam Marine Vet and he has become my close friend and he knows I love him very much. We walk, talk, and he gets spoiled and in return he shows his loyalty and love to me and my family.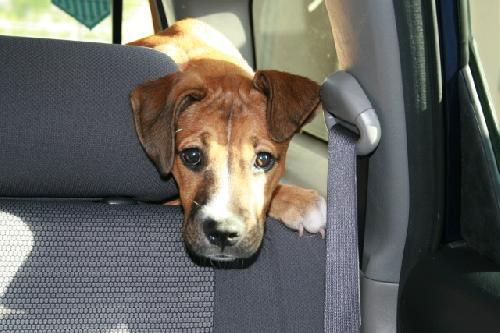 TINKA (now Cleo)
My name is Cleo (formally known as Tinka). I was a 17th birthday present to my mommy Alison in July 2008 (an early birthday present). I have beautiful eyes like Cleopatra, thus my name Cleo. I had distemper while being quarantined with my canine family. My new mommy and grandma took me to the vet and took care of the problem. I got house broken very quickly .. my new mommy was very patient.
My new family also includes two dogs: my best friend Peanut a mini datschund, who thinks that she is my mommy. She cleans my ears, mouth, and face daily, so I do not slobber like most boxer. Sometimes it is a bit annoying. I let her think that she is the boss to make her feel good. The other one is an old 14 years old dog named Little Foot, another rescued dog. (actually all of us are rescued dogs). She does not want to play though because she is blind and old. I like to box her when she tries to find her way out to the backyard though. It's kind of fun :-). My favorite thing to do is digging up all the flowers and plants in the backyard. Grandma gets pretty upset about that, but she still loves me.
The birds fascinate me. I don't know how they can fly... maybe I'll try that sometimes. They totally distract me on my walks. The frogs in the backyard are fun to chase. Peanut taught me that. She is a good teacher... I learn tug of war from her, making the squeaky toy squeak. I can sit, shake hand, and I am also good on the leash (except when a bird is within my sight). I sit very still while getting my teeth brushed every morning. Life is good!
You can see by my writing that I am hyper, but everyone loves me because I am sweet, fun, and cute. And did I also mention adorable?
Thank you Lone Star Boxer Rescue for finding me a family. You rescued them. Woof Woof Woof.
Sincerely - Cleo Tinka Williams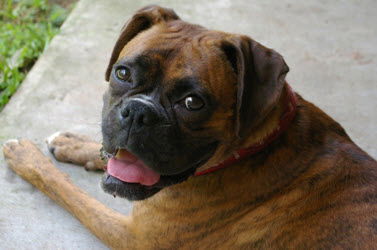 TEVA
Whew - talk about being scared! I was so lost and lonely. No one knows how I got away from my family. I had been hurt and I had nowhere to go. The next thing I knew I was put in the back of a truck and taken to the nicest lady I ever met. She took me in and nursed me back to health. I had a bunch of other dogs to play with, lots of love and good food to eat. Then one day she brought me outside by myself and I found a family out there to meet me. And they had dogs with them, too. It made me kind of nervous but they seemed fun enough. I was kind of surprised when my leash was handed to the new people – was I going somewhere?
Sure enough, they walked me to a car and we ALL got in and drove away. I sat with the lady who pet my head and talked to me the whole time. I guess I looked scared! When we went into the house I got REALLY nervous! Where was it ok for me to sit and where was it NOT ok for me to sit. Oh boy! In a couple of hours I relaxed a little bit and sat down. Then they showed me a bed for me to sleep on in the living room. I was so excited that I ran around and around on it and punched it in the middle with my head. Man, is it comfortable!
I've been in my forever home for about eight months now. Every morning and every evening they give me my very own bowl of food. I was sure they would forget but they never have. And every day I can go outside whenever I want to check out the new smells that pop up. I love my two brothers (well, the little one can be cranky). And the yard has these magic sticks that pop up out of the ground for no reason and spray water! I have to be very diligent and watch for them so I don't miss anything. Sometimes other dogs come to stay here for a little while and then they go away. I am not sure what that's about but I don't mind. It gives me someone else to play with. A few months ago one came to stay and it sure doesn't look like she is leaving, so I guess now I have a sister too! We have so much fun together running and wrestling. Don't tell her this – but I take it a little easy on her because she only has three legs. Even though she has one less leg, she runs faster than any of the rest of us.
Sometimes I can barely remember how hungry, tired and scared I was when I was picked up and put in that truck. I sure am glad that there are nice people out there that do that, because I like feeling safe, warm, loved and cared for. If I could, I would tell them how happy I am and say a big THANK YOU!!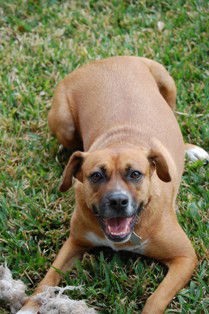 Temple (now Kali)
Kali is doing very well. We feel very fortunate to have her. She and I recently started jogging with a neighbor and her black lab, Gus. Now that the weather is getting warmer, we plan to make that a daily routine. Here are some recent pics of Kali.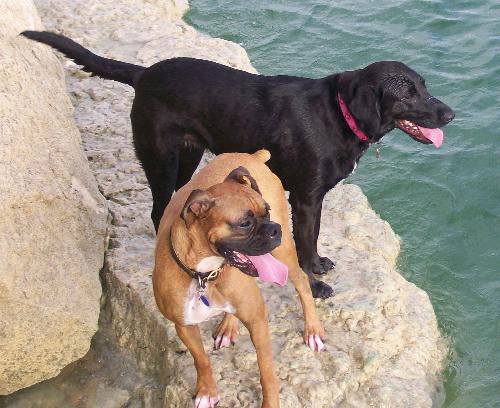 THE DUKE
We adopted Zeno (formerly 'The Duke') a year ago. We wanted a dog that would be a companion to our very active lab, Jazz. We knew he was the right fit when we brought Jazz to the adoption day and they immediately started racing and chasing around the yard. They've been racing and chasing ever since!! They love to play and wrestle like they are truly brother and sister! He's so sweet and loving and full of energy. We love spending time outdoors so Zeno spends lots of time romping through the woods, playing at the creek and swimming at the lake. He is such a good fit with our family that we've decided boxers are now our breed, we wish we could have more of them! Thank you, LSBR,for the work that you do and thank you for bringing Zeno to our family!! Meagan LeLeux
Click a letter to find an animal or
view all
.